Spicy Tomato Music offers a "one-stop solution" for film composition & film music production. Traditional recording and composition on piano, acoustic and ambient electric guitar is augmented by a deep sample library for software instruments of outstanding musical quality; literally thousands of samples of rich orchestral strings and wind instruments, gamelans, mellotrons, organs, contemporary and vintage synthesizers, marimbas, drums and percussive instruments.
Why settle for boring generic royalty free music when you can have music composed to your exact specifications? If you want your film music to move in perfect sync and harmony with your film it is worth considering hiring someone to write it just for you. Leave the temp music on the editing room floor – you want music tailor made for your movie!
A film composer can draw from the knowledge of your favourite film composers, favourite films, favourite instruments, favourite songs and favourite bands to create something brand new and made just for your film.
NFB - Invisible World Intro (2015)

Everett LaRoi

0:40

NFB - Invisible World - Jeff's Theme (2015)

Everett LaRoi

1:52

NFB - Invisible World - Von's End Theme (2015)

Everett LaRoi

3:07

NFB - Red Run - Main Theme (2001)

Everett LaRoi

1:08

NFB - Red Run - Percy's Theme (2001)

Everett LaRoi

1:21
Recent Film Music by Everett LaRoi: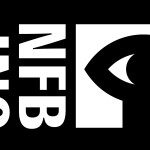 Everett LaRoi: "I was approached in 2013 regarding composing film music for an interactive web-based short film entitled "Invisible World" which was to be shot on location in Cambodia and produced and released by the National Film Board of Canada. The film, which has lovely cinematography and stunning colors, chronicles the stories of three main characters, all of whom required their own musical themes. Back in the year 2001 I scored a documentary soundtrack for a NFB documentary entitled Red Run, so though it wasn't totally new territory for me, it was still a bit daunting (in a good way) and seemed like a unique opportunity for me to venture outside of my songwriting comfort zone."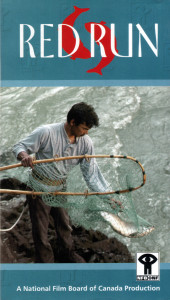 "The film, complete with my finished original score, is done and we are awaiting a release date."
"Within a couple weeks of finishing work on Invisible World, I was approached by director Beth Wishart MacKenzie to compose a few short musical themes for an endearing indie film documentary entitled "Brothers in the Buddha" (the film also features music by Tony Bao and fellow Edmontonians Shout Out Out Out Out)."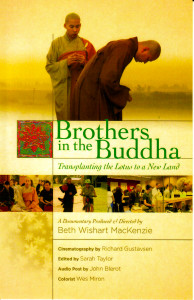 "Brothers in the Buddha features, Michael, a seventeen year old Vietnamese Canadian youth who has taken up the discipline of a monastic at a monastery in the heart of the Canadian city of Edmonton. Michael wears the tunic of a monastic, but he does not live a cloistered life; Michael is fully engaged in the modern world and attends high school with other youth his age. Brothers in the Buddha examines the personal life and challenge undertaken by this young Canadian, both in the monastery and in the world around him. We observe Michael as an adolescent seeking to define his identity, no different than other adolescents, and we come to know him not as an unapproachable 'novelty', but as a friend and neighbor."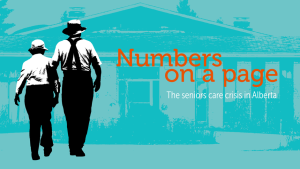 "I had just finished work on "Brothers in the Buddha" and was on a family summer vacation on the west coast when I was offered another film music contract. This was for a more political piece; a documentary that explores the seniors care crisis in my home province of Alberta. The film is entitled "Numbers on a Page" and had it's premiere screening on Monday, February 2, 2015 at Zeidler Hall at The Citadel Theatre. It's a story that I believe needs to be told. I was glad to be a part of it."
"Most recently, in February 2015, I was approached by executive producer Bonnie Thompson to score a short NFB documentary film directed by Eva Colmers titled "We Regret To Inform You". We finished that up in March and are awaiting it's release."