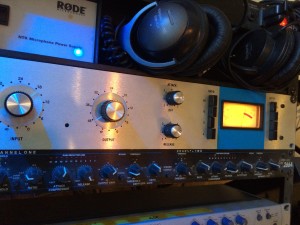 Spicy Tomato Music specializes in producing music for film, bands and songwriters. The company, which was formed in 1994, is located in Edmonton, Alberta and owned and operated by Everett LaRoi.
"My production style employs a digital/analog hybrid approach which combines vintage recording gear with cutting edge digital plugins and editing software." states LaRoi, "I often prefer to work in non-studio recording environments because it's casual and economical, but also it helps us to capture a unique sonic signature for each recording."
Mixing is typically done at LaRoi's home based Spicy Tomato Music studio, but mastering is typically handled by JJ Golden at Golden Mastering in Ventura, California.
Three

Alice Kos

4:12

Outside Thoughts

Manraygun

2:37

Madly

Sherry-Lee Heschel

2:29

Burmis Pine

Manraygun

3:57

Song That's Not Finished Yet

Idyl Tea

2:55

A Guitar And A Broken Heart

Idyl Tea

2:41
Frequently Asked Questions with answers by Everett LaRoi:

What specific music production services do you offer?
I am a music producer for bands, songwriters and film music. I typically record and mix the projects I work on, but not exclusively. I help musicians get ready for recording and rehearse with them to help them to capture their best possible musical performances. I like quirky mobile set-ups in houses and halls with unique sonic characteristics, although I am equally comfortable working in recording studios.

Every recording project is different. Some people want assistance with song structures, arrangements and lyrics, whereas others have totally finished tunes that they just want to capture "as is" in the recording studio. I'm open to all kinds of possibilities.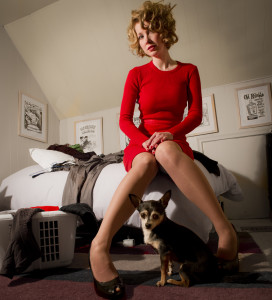 My goal is to help musicians to make their music the very best it can be. I want to help musicians achieve the sound they hear in their heads and this is by no means always an easy task. I want to know their favourite bands and their favourite producers. I want to know where they're coming from so I can help them get where they want to go. Like any music producer I acknowledge that I have certain sonic preferences and prefered ways of working, but suffice to say I understand that making a recording of you or your band isn't all about me, it's all about you!
I can also suggest some great musicians to play on your project if you're looking for some help with that too (I know a lot of musicians).
I have been recording and mixing music for a long time – since the eighties. I'm very passionate about making music – it's my life! I love composing songs and film music, as well as partnering with bands or original songwriters to produce singles, EPs or full length albums.
What do you charge?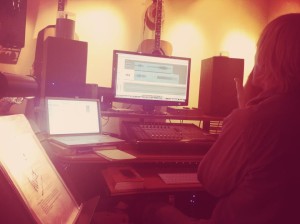 It depends on the project. I prefer to offer an all inclusive project rate customized to the project, with flexibility to accomodate changes in plans (i.e. enlarging or changing the scope of a project, or bringing other collaborators on board).
As a guideline, my basic rate is $1000 per song for preproduction, recording and mixing (mastering is not included). This is of course only a guideline – I will make a custom quote for your project. Obviously if we're recording 50 tracks of strings per song for your rock opera, it's going to be a little bit more expensive.
What qualifies you to produce my recordings?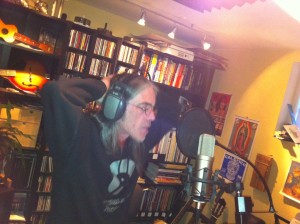 I have a fair bit of day-to-day hands-on experience engineering recordings, mixing and mastering commercial releases, as well as producing music for film. I have also received instruction through master producers mentor workshops with Phil Ramone (Paul Simon, Bob Dylan, Elton John), Joe Boyd (Nick Drake, Richard Thompson, R.E.M.), Ed Cherney (The Rolling Stones, Bob Dylan), Matt Wallace (The Replacements, Maroon 5, Faith No More), and Susan Rogers (Prince, Ted Hawkins). I have learned a huge amount from the musicians and producers that I have partnered with in the past. I have learned from listening to and reading about music in books and magazines and watching musicians work. I have been experimenting and messing around in recording studios with microphones, tape machines, outboard gear and recording software for many years.
Do you record digital or analog?
I am equally comfortable working in either domain but I generally now record digitally. For many years I used analog tape.  It does sound great but there are some disadvantages to it too (it's very expensive for starts). Digital recording is really still in it's infancy as a format, but I can tell you that it sounds way better than it did 15 years ago (it's not so brittle in the top end like it used to be).  There are also some excellent tape emulation plugins available should you want to impart a more vintage vibe.
Do you have a studio?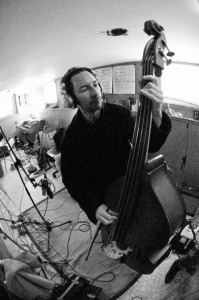 I have a home studio for tracking overdubs and mixing. If we're recording a full band we'll either set up instruments in my house, rent a recording studio or, set up my mobile recording gear in a house or hall. The remote mobile studio set-up approach can be a fun way to record as it is more casual (and economical) with the added benefit of giving your recording a unique sonic signature (every house or hall sounds a bit different).
What sort of gear do you have?
I have a wide assortment of microphones, mic-preamps, monitors, and outboard gear to choose from (check out the Equipment Page). I love old tube and FET mic preamps, amplifiers and microphones, but not exclusively. I also have a ton of fantastic software plugins from Waves, Slate Digital, Sonnox, SoundToys, PSP Audioware, Kush Audio, Izotope, Sknote, Cytomic (among others) to help experiment with the sound in creative ways. Once we know what we want to do and what sound we're after, I will make it my personal mission to find the right gear for the job. Every project is different and may require different specialized gear. I can rent or borrow virtually any microphone, pre-amp or piece of boutique audio gear you can imagine. I have not found one microphone that captures all vocalists well. Some people sound great on a Neumann U87 but others sound better on a Shure SM58! More expensive gear is not always the answer. We will experiment with a few different solutions and find something that everyone is happy with.
Where do I sign up? Will you produce, mix or master anyone?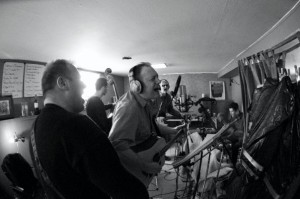 I only produce a few releases per year, so obviously I can't work with everyone. If you think I might be a good fit for your project I encourage you to submit material to me for consideration in the form of website links, mp3 files, YouTube videos or a cd.
How did you get your start in Music Production?
I have always loved playing music and making recordings. My first recordings were made as a youngster on a Panasonic cassette player with a blue record button and a tiny black hand held microphone just large enough to fit in a baby's hand. You could stop the recording at any time with a little switch on the mic. My family took that cassette recorder everywhere including a summer long road trip through scandinavia in a VW micro bus. We spent a lot of time driving around the boreal forest listening to latest releases by The Beatles (Abbey Road, Let It Be) or the new solo releases by Paul McCartney (Ram, Red Rose Speedway).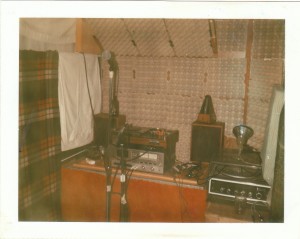 When I was in Junior High the hormones were beginning to rage but playing guitar seemed to offer some solace. I also had access to both my brothers cassette deck and my parents cassette deck which allowed me make primitive overdubs by employing a little Y splitter cable. I also now had a partner named Henry who was willing to let me record him or, the two of us playing together. We started writing songs and recording them. First we recorded guitars and vocals on my brothers cassette deck, then we played it back while adding additional parts and recording both parts to my parents cassette deck through the y-splitter cable. It was lo-fi, but it worked!
By the time I was in high school I was working with a TASCAM 4-track (the same one Springsteen used to record "Nebraska" in fact) and also got some experience working with synthesizers and analog reel-to-reel machines in a high school electronic music class. I learned how to work analog synthesizers and do things like make backwards recordings, change the pitch of recordings, use tape echo and create different effects with things like reel-to-reel tape flanging. I started acquiring and renting gear and constructing little temporary studios to make recordings for the bands I played in.
The first band I formed when I got out of high school was offered a recording contract in 1990, so I went on the road playing music and played with and met a lot of great people. In between tours I was always making demo recordings of my new songs in my little portable home studios. In those days home studio recordings were considered "demos". If you wanted to make a real record you went into a real recording studio. So that was up next for me; working in various recording studios co-producing recordings and learning from the engineers who worked there. The most significant teacher during this period was undoubtedly Dean McElwain (Ian Tyson, Idyl Tea) who taught me a great deal about recording drums, using mixing consoles (like old Neves and Neoteks) and capturing a good vocal take.
Do you enjoy producing music?
Yes – I love it actually.